This article has links to products and services we recommend, which we may make commission from.
Hello, is anyone out there? It's Gemma from Two Scots Abroad! Is that how you feel on Twitter? I did to! I initially made the mistake by stating (arrogantly) that I wasn't going to add people on Twitter just to get numbers up but I was looking at it all wrong! That's what you do, you target like-minded people in your niche and converse. Here's our guide to building your brand and Twitter following.
---
By the end of this post, you will be able to
Find Twitter followers
Actively participate in Twitter Chats
Identify hashtags to support engagement and exposure
---
The first step in increasing your following on Twitter is to network. This can be done in a number of ways on Twitter – through participating in Twitter chats, engaging with people through hashtags, and sharing other blogger's content.
How to Build Your Twitter Following
1. Twitter Chats
Have you seen tweets with A1 – blah blah blah and thought, what on earth is that? Yeah, me too and by the time I traced the tweets back I was always too late. These tweets are answers to Twitter Chats.
Twitter Chats are weekly or monthly chats set up on Twitter by bloggers, companies, tourist boards etc to help the travel community share ideas and their love of a niche. For example, there chats on travel, food, pets, gender, leadership, etc.
The Twitter user who manages the chat will ask a series of questions and you answer them using A1 (for question 1) then the hashtag.
It is important to include the correct hashtag as this is what connects you to the Twitter Chat. Some Twitter Chats reveal the questions before the chat so you can think about your answers, prepare images, etc. For example, JA Chat also has a Facebook page, where the questions are shared and sometimes you can contribute questions!
Twitter chats can be confusing to follow! I use Tweetdeck to manage chats (see image below).
Log into Tweetdeck using your Twitter details, on the left-hand side, you will see a column for Home, Notifications and then you 'add columns' by clicking the search magnifying glass on the left-hand side.
Type in the hashtag of the chat you are joining then add the column.
You can move columns by clicking the two lines with the circles through them on the top right-hand side of the column, then the arrows on the bottom left-hand side of the box that springs up (much easier than this sounds!)
This column will present the chat thread – engage with other accounts, add those who you engage with.
2. Twitter Followers
This is not to be confused with the follow/unfollow strategy.
To increase my Twitter following, along with Twitter Chats and sharing other people's content, I added 50 people per day who had the same interests as me.
To find those Twitter users, I clicked on popular travel accounts and fellow travellers, as I am a travel blogger.
I avoided accounts with 20k followers who followed 5 people back (I exaggerate) as it was unlikely that they were following back and highly likely that they were using the follow/unfollow strategy.
Some people follow up to 500 people per day using websites such as Mass Planner but be careful not to overdo it as your account can be blocked.
Unfollowing Twitter Followers
After some time I deleted those who didn't follow me back.
I used Unfollowers (which is now called StatusBrew) to identify who was not following me back then I hit the unfollow button. Unfortunately, none of these platforms are free anymore.
I heard if you pay for the service it can tell you who you've already added and deleted, to avoid doing it multiple times.
I get many unfollowers on my account too, it's just the nature of increasing your Twitter following.
*UPDATE: I stopped #2 and #3 at around 5K and now…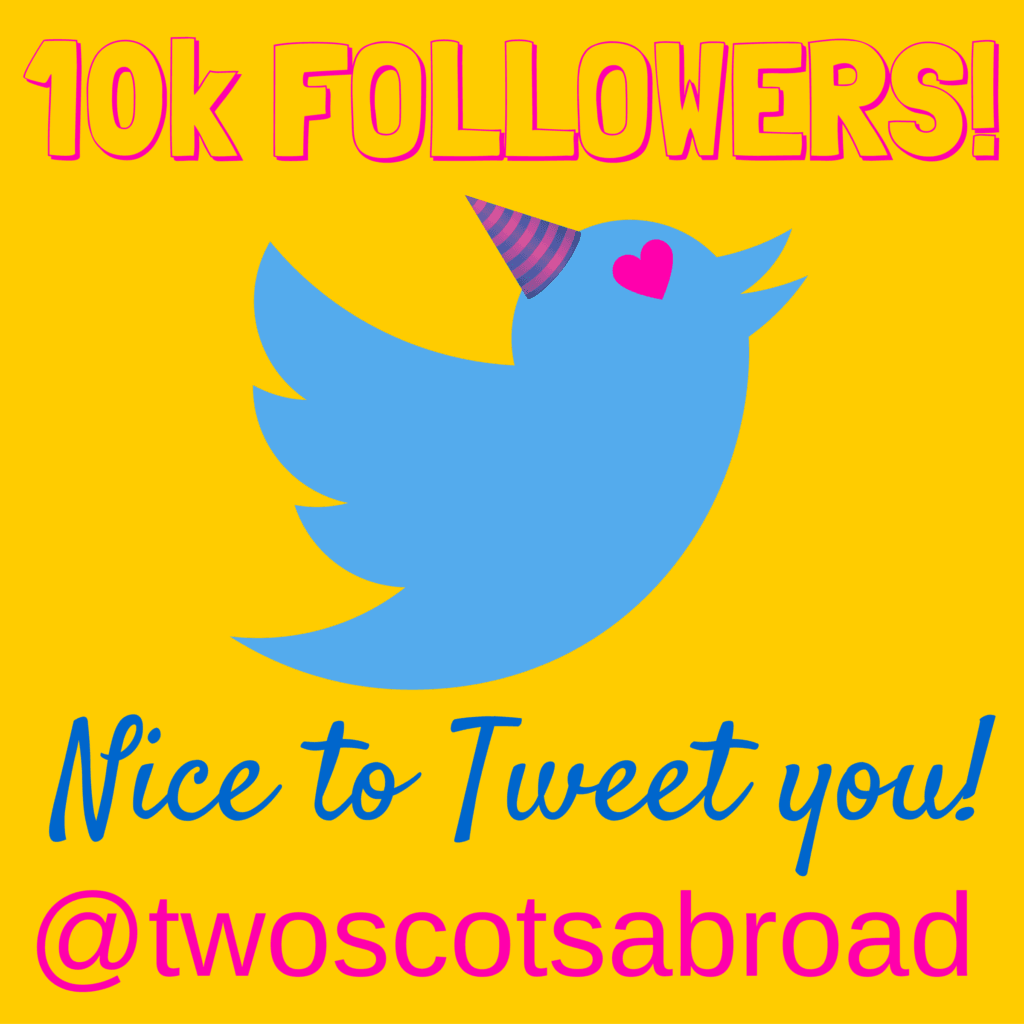 3. Follow/Unfollow Strategy
I am so bored of reading bloggers moan about other bloggers following and unfollowing them.
Please stop wasting your energy on this – focus on growing your own brand, improving your website load speed, doing some SEO sprucing up of old posts – stop naming and shaming the gamers.
I do not follow/unfollow myself but the aim of this strategy is to target accounts who are likely to follow you back and then you delete them.
It's not great for engagement but it does get your numbers up.
If you do use this strategy, be aware that PR companies will look at all of your social media accounts so if you have 21K Twitter or Instagram followers (both easy to game) and only 1000 Facebook followers, it doesn't look great.
4. Twitter Engagement
It is crucial to engage with your followers on Twitter in order to get them to click the links to your advertised articles.
Twitter chats will help with this as well as targeted hashtagging on tweets.
If an account on Twitter reports you as 'spam' you run the risk of being excluded from hashtags which means that you can't participate in Twitter chats and is detrimental to the building of relationships with brands and tourism accounts on Twitter (this happened to me and many other bloggers for a few weeks).
To find out if you are in this situation, type in a hashtag that you have used recently into Twitter search, check out the 'live' tab on that hashtag if your tweet is present you are safe.
Participate in Follow Friday – tag accounts you think others should follow.
Don't do this in a spammy way though, be genuine and don't tag the same accounts every week.
5. Twitter Tribe
Find your own tribe! Make friends with bloggers in your niche and support each other. Share and engage with each other's content.
You can even tag images (up to 10 accounts) but only do with bloggers or accounts you know are down with it.
6. Twitter Hashtags
There are a variety of hashtags that you can use to reach followers.
This may take a bit of time to create a bank of hashtags but will be worth it.
Evidence states that callouts with one hashtag to better than those without but more than one hashtag can impact on reach.
Currently Trending/Explore Function 
Check which hashtags are hot right now and join in!
7. Twitter Lists
A nifty tool which is underused on Twitter is the 'list' option.
Go to a Twitter account, click the screw-like icon next to the 'follow' button and select 'add or remove from lists'.
You can create categories and save accounts in them (public or private).
You can click on the list and engage with the members' tweets. I also save accounts under country names and engage with those who I would like to work with in the future.
 8. Triberr
I think Triberr is a dead game now but here's how I used it.
I was so confused by Triberr by first! Triberr is a website post sharing community where bloggers use Tribes (groups) to advertise their own posts and share other blogger's articles too.
Sign up to Triberr, ensure your profile and RSS are linked (I didn't have RSS set up beforehand).
Ask to join Tribes, however at first you will be a follower, other people's blog posts will appear in your activity (feed), share their stuff.
Show your interest in becoming a member by leaving a comment, introduce yourself and ask for consideration when a spot shows up (the Chief will flush out those who are not sharing so spots do show up).
You may be asked to join Tribes as opposed to waiting for full membership. Triberr is not something I focus on anymore but may be of use to those starting out.
9. ReTweet
There are many travel blogger share groups on Facebook.
In these groups, bloggers share social media shout outs and article posts.
For example, on Mondays, members of the Travel Bloggers Social Media Sharing Group retweet ten posts in an organised share.
To join Facebook groups (and you should, there is a whole wealth of experience in these groups), read in the instructions in the description. For the above group, ensure that you have your travel blog clearly attached to your own Facebook page.
10. Post every 2 hours
Whhhhaaat? I know, riiiight. That's what the stats say. But that doesn't mean you have to be tied to your keyboard.
Schedule tweets 24/7 via Buffer (ten scheduled tweets only on the free version) or Hootsuite (unlimited tweets) and they do the job for you.
Do you use the Yoast SEO plugin? If you do, ensure that the 'social' section is filled out correctly as it pulls images from your post along with the Tweet which is better for click-ability (or you can select them on Buffer or upload them to Hootsuite).
Another time-saving tip – add the Evergreen Post Tweeter plugin to your site as this will pull old posts from your blog and tweet them as often as you'd like (set for every two hours or more, Twitter does not like hourly tweets).
Disclaimer: I've now stopped using this as my engagement was flagging as 'low'.
11. Engage
I'm going to repeat this again because it is way more important than follower numbers, engage.
Find fellow lovers of your niche, post an image with a question and tag them. If they reciprocate you could add them to one of your lists for engaged followers. Encourage them to tag others too.
Final Words
Like I mentioned in our Pinterest for Bloggers + Business article (check it out here. If you are not on Pinterest, get on it today!), Twitter is just one tool in your travel blogging toolkit.
I am still pushing the best use of SEO from the start of your blogging career, and get your website loading speed down. This will help with ranking on Google, as let's face it – after all the tweets and likes are dead (within minutes on Twitter) what do you want for your articles – to be found on Google search.
Bloggers Twitter Weekly Task
Join in a Twitter Chat
Schedule a tweet to Buffer or Hootsuite using two researched hashtags
Add 50 accounts in your niche
Unfollow those who don't follow back
Join a Facebook sharing group – take part in Twitter social share
Engage, engage, engage!
Talk to us! Leave a comment in the field below
I have no affiliates with any of the websites mentioned above, just great tools which help your Twitter grow!)